Total War Warhammer Steam CD Key
Total War: WARHAMMER El Viejo Mundo tiembla bajo el incesante fragor de la batalla. ¡La única constante es la GUERRA! Total War: WARHAMMER es un juego fantástico de estrategia de proporciones épicas y combina una adictiva campaña de construcción de imperios por turnos con colosales y brutales batallas en tiempo real. Todo ello en el vívido e increíble mundo de Warhammer Fantasy Battles. Lidera cinco razas completamente distintas: Bretonia, el Imperio, los Enanos, los Condes Vampiro y los Pieles Verdes, cada una de ellas con sus propios personajes, unidades de combate y estilo de juego. Lleva tus ejércitos a la guerra al mando de legendarios Señores del mundo de Warhammer Fantasy Battles y equípalos con épicas armas, corazas y magia letal, obtenidos en cadenas de aventuras individuales. Por primera vez en un juego de Total War, podrás dominar tormentas de energía mágica que te ayudarán a la batalla y, también, conquistar los cielos con criaturas voladoras, desde feroces Dragones a Serpientes Aladas y sin olvidar los gigantescos Hipogrifos.
COMPRAR AHORA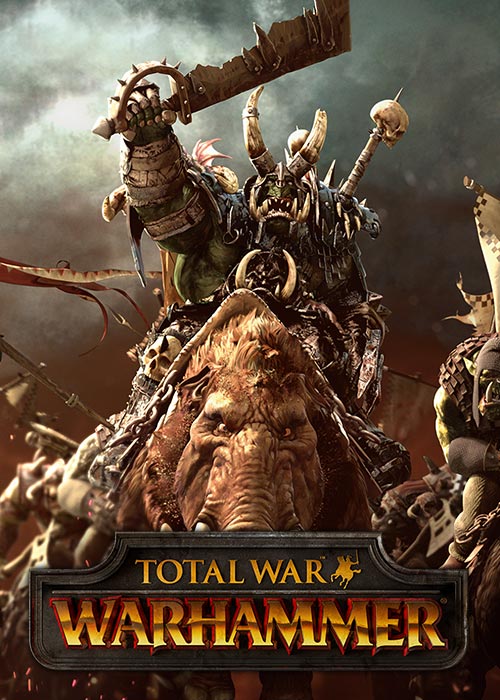 Plataforma:
Región:
etiquetas: SLG RTS
También te puede interesar
Descripción del Producto
A unique combination of colossal real-time battles and an addictive turn-based sandbox campaign game of statecraft, politics and empire building, Total War: WARHAMMER will deliver hundreds of hours of absorbing gameplay. What is more, this title will go on to combine with two further standalone instalments and additional content packs to create the largest Total War experience ever. An epic trilogy of titles that will redefine fantasy strategy gaming. This is the dawn of a new era. Total War: WARHAMMER brings to life a world of legendary heroes, towering monsters, flying creatures, storms of magical power and regiments of nightmarish warriors. Our rules have changed; the only constant… is war.