Tom Clancy's Rainbow Six Siege Year 3 Pass DLC UPLAY CD KEY GLOBAL
¡Amplía y mejora tu experiencia con el Pase del Año 3!
Compra el Pase del Año 3 (Y3 Pass) antes de que empiece la primera temporada del tercer año de contenidos y recibe la apariencia de armas Acero de Damasco, característica de la temporada.
Los propietarios del Pase del Año 2 que compren el del Año 3 recibirán un bonus de 600 créditos.
COMPRAR AHORA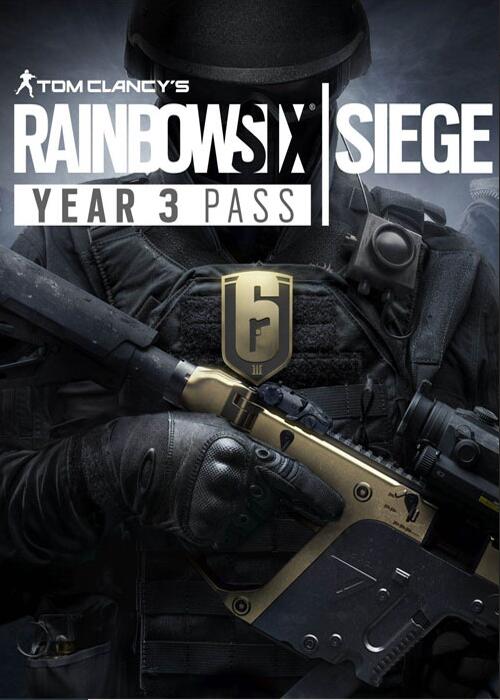 Nuevo Caliente
Plataforma:
Región:
Stock:
¡Disponible para ordenar
Mejor vendido! ¡La demanda excede el suministro! Estamos reponiendo nuestras existencias, le enviaremos las claves a su correo electrónico dentro de las 48 horas de su reserva.
También te puede interesar
Descripción del Producto
Extend and enhance your experience with the Y3 pass! Purchase the Year 3 Pass before the start of Season 1 Year 3, and receive the Damascus Steel Signature weapon skin. Year 2 Pass holders who purchase the Year 3 Pass will receive a bonus 600 R6 Credits.

With the Y3 Pass get access to a 1-year* VIP premium membership which includes:

YEAR 3 OPERATORS AND BONUS DLC
- 8 new Year 3 operators - 8 exclusive headgear and uniforms - R6 Charm - 600 R6 Credits
VIP PERKS
- 7-day early access to each season's new Operators. - 10% discount in in-game shop - 5% Renown boost - 0,3% Alpha Pack Boost

*VIP Membership ends January 31, 2019
**10% discount only applies to purchases made with Renown or R6 Credits. Tom Clancy's Rainbow Six Siege is mandatory to play the game (sold separately).