Xcom 2 Digital Deluxe Steam CD Key EU
XCOM 2 es la secuela de XCOM: Enemy Unknown, el galardonado juego de estrategia que fue nombrado Juego del Año en 2012. La Tierra ha cambiado. Han pasado veinte años desde que los líderes mundiales se rindieran incondicionalmente ante las fuerzas alienígenas. XCOM, la última defensa del planeta, acabó destrozada y dispersa. Ahora, en XCOM 2, los alienígenas dominan la Tierra y construyen resplandecientes ciudades que prometen un futuro brillante para la humanidad mientras esconden siniestros planes y eliminan a todos los opositores a su nuevo orden. Solo quienes viven en los límites de la sociedad tienen un margen de libertad. Allí vuelve a reunirse una fuerza para luchar por la humanidad. Siempre a la fuga y con todo en su contra, las fuerzas restantes de XCOM deben encontrar el modo de avivar una resistencia global y eliminar la amenaza alienígena de una vez por todas. XCOM EN FUGA: toma el mando del Avenger, una nave alienígena de suministros convertida en el cuartel general móvil de XCOM. El nuevo sistema de juego abierto te permite decidir adónde guiar tu equipo de ataque, cómo ganar apoyo popular y cuándo combatir las operaciones de contraataque del enemigo. RECLUTA A COMBATIENTES DE LA RESISTENCIA: cinco clases de soldados, cada una con su propio árbol de habilidades, que te permiten crear soldados concretos para tus tácticas. COMBATE DE GUERRILLA TÁCTICO: nuevos sistemas de juego que ofrecen mayor flexibilidad táctica en combate. Usa la ocultación para emboscar a las patrullas enemigas. Saquea a los enemigos para conseguir equipo y artefactos. Rescata a los VIP y salva a tus camaradas caídos llevándolos al punto de extracción. UNA NUEVA RAZA DE ENEMIGOS: un nuevo elenco de enemigos que ofrece un desafío táctico único, desde nuevas y poderosas especies alienígenas hasta los matones de ADVENT del régimen alienígena. INVESTIGA, DESARROLLA Y MEJORA: configura y construye salas en el Avenger para dar a XCOM nuevas capacidades en el campo de batalla. Usa a tus científicos e ingenieros para investigar, desarrollar y mejorar armas y blindajes para que se adapten a tus tácticas. CADA MISIÓN ES UN DESAFÍO ÚNICO: embárcate en misiones por todo el mundo, desde tierras en plena naturaleza hasta el corazón de las megaciudades controladas por los alienígenas y las profundidades de las instalaciones alienígenas. Hay combinaciones virtualmente infinitas de mapas, misiones y objetivos. CREA MODS PERSONALIZADOS: las herramientas centradas en la comunidad te permiten crear tu propia campaña, tácticas de juego, alienígenas, clases y características de juego de estrategia y luego compartirlas en Steam Workshop. DISFRUTA DEL MULTIJUGADOR CARA A CARA: mezcla pelotones de humanos y alienígenas para que se enfrenten en mapas generados de forma aleatoria.
COMPRAR AHORA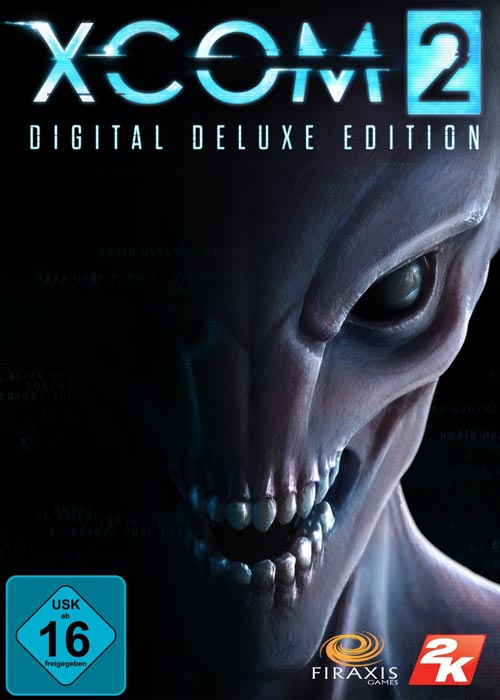 Plataforma:
Región:
etiquetas: SLG
También te puede interesar
Descripción del Producto
CD key Information:
The Xcom 2 Digital Deluxe Steam CD Key is the serial number or product code which is a combination of letters and numbers that activates XCOM 2, XCOM 2 Reinforcement Pack and XCOM 2 digital soundtrack, normally found on a sticker inside the game's case or printed on the game's quick reference card. The purchased Xcom 2 Digital Deluxe Steam CD Key is used to register and activate the relevant game. Depending on the product, we provide this in the form of a scan of the code or the actual code in text format.
Note: All of our products are delivered digitally in the format of a Xcom 2 Digital Deluxe Steam CD Key which can be activated on one the relevant platform shown above. In stock and welcome to order.