Civilization VI Rise And Fall DLC Steam CD Key EU
Disponible: 9 febrero
Civilization VI es un juego que trata de construir un imperio que resista el paso del tiempo, y la ampliación Rise and Fall aporta nuevas opciones, estrategias y desafíos a los jugadores a medida que estos conducen una civilización por distintas épocas. ¿Serás capaz de inspirar lealtad a todas las gentes del mundo? ¿Fundarás una edad de oro para tu civilización o te verás abocado a una época oscura? En Civilization VI: Rise and Fall, te convertirás en un líder de verdad a través de los tiempos.
COMPRAR AHORA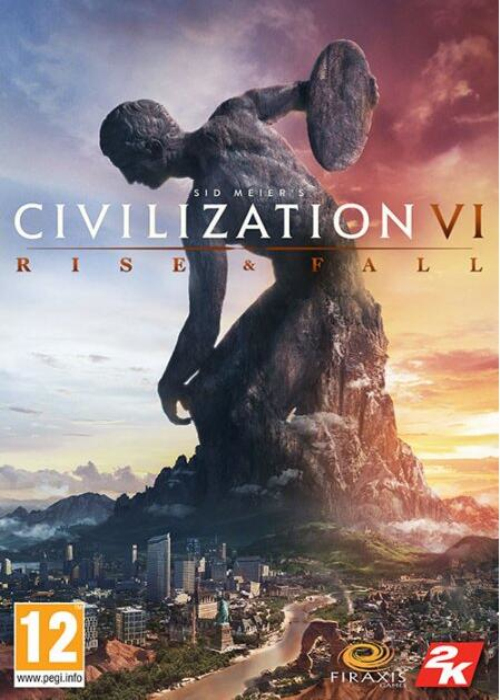 Nuevo Caliente
Plataforma:
Región:
Stock:
¡Disponible para ordenar
Mejor vendido! ¡La demanda excede el suministro! Estamos reponiendo nuestras existencias, le enviaremos las claves a su correo electrónico dentro de las 48 horas de su reserva.
También te puede interesar
Descripción del Producto
Si diriges bien una civilización, podrás llevarla a una próspera edad de oro, pero regazarse puede conllevar la llegada de una época oscura. Responde bien a los desafíos, y tu civilización podrá resurgir y alcanzar una época heroica.
Alienta la lealtad de los ciudadanos para mantener tus fronteras intactas o inspira lealtad a otras civilizaciones para expandir tu imperio. Las fronteras del mundo se mueven y cambian constantemente mientras de los imperios emergen ciudades libres y los países vecinos compiten por su lealtad por todo el mapa.
Con el nuevo sistema de gobernadores, los jugadores pueden personalizar y especializar todavía más sus ciudades, así como reaccionar a los nuevos retos que plantean las épocas oscuras y la lealtad. Cada uno de los siete gobernadores tiene su propio árbol de ascensos, que se adapta a distintos estilos y estrategias de juego.
Además de estos nuevos sistemas, Civilization VI: Rise and Fall introduce ocho civilizaciones y nueve líderes más. Se pueden construir ocho maravillas del mundo adicionales, así como gran variedad de nuevas unidades, distritos, edificios y mejoras. Ahora hay más maneras que nunca de construir, conquistar e inspirar.