Assassins Creed Brotherhood Uplay CD Key
Vive y respira como Ezio, el legendario Maestro Assassin, en su lucha contra la poderosa Orden de los Templarios. En esta ocasión viajará hasta la más increíble de las ciudades Italianas, Roma, centro de poder, corrupción y avaricia, para así lograr atacar en el corazón de su enemigo. Vencer a los corruptos tiranos que allí se encontrará requerirá no sólo su fuerza, sino también de su liderazgo, puesto que Ezio comandará una Hermandad que luchará a su lado. Sólo trabajando juntos, los Assassin conseguirán vencer a sus enemigos mortales. Por primera vez, Assassin's Creed La Hermandad ofrece un modo multijugador nunca visto. Los jugadores podrán ayudar a los Templarios sirviéndose de Abstergo para entrenarse en el arte de los Assassin y así acabar con ellos de una vez por todas. Los jugadores pueden escoger dentro de una amplia opción de personajes, cada uno con sus propias armas y técnicas, y mediar su habilidad frente a otros jugadores de todo el mundo en diferentes modos de juegos. Ha llegado la hora de unirse a la Hermandad.
COMPRAR AHORA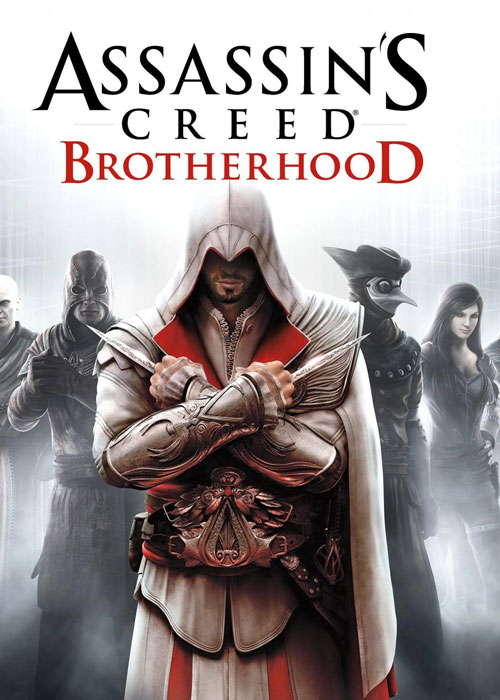 Plataforma:
Región:
etiquetas: ACT AVG RPG
También te puede interesar
Descripción del Producto
BE A LEGEND – Take Ezio, now a legendary Assassin, on a new adventure with 15+ hours of story-driven single-player gameplay. •LEAD AND CONTROL A LEGENDARY BROTHERHOOD – Recruit and customize your own guild. Train and level up assassins and command them to aid you in your quest. •DEPLOY SECRET WEAPONS – Swiftly eliminate your enemies using tools such as poison darts, parachutes, double hidden blades, hidden guns, and an advanced flying machine at your disposal. •WIN THE HEART OF A CITY – Use your hard-won currency to revitalize the crumbling capitol city. Rally the citizens to your cause and unlock extra factions and missions. •AWARD-WINNING MULTIPLAYER – Choose from multiple authentic character classes, each with their own signature weapons and killing moves. With richly detailed maps and a wide variety of unique multiplayer modes, you'll never fight the same way twice.