Hearts of Iron IV Cadet Edition Steam CD-Key
¡Tenemos la victoria al alcance de la mano! Tu capacidad para liderar tu nación es tu arma principal. En el juego de estrategia Hearts of Iron IV podrás ponerte el mando de cualquier nación de la II Guerra Mundial, el conflicto más fascinante de la historia mundial. Desde el corazón del campo de batalla hasta el centro de mando, deberás conducir a tu nación hasta la gloria combatiendo, negociando o invadiendo. Tú tienes el poder de alterar la balanza de la II Guerra Mundial. Es hora de demostrar que eres el mayor líder militar del mundo. ¿Vas a reproducir o a modificar el curso de la historia? ¿Vas a cambiar el destino del mundo haciéndote con la victoria a toda costa? Guerra estratégica total: la guerra no solo se gana sobre el terreno, por tierra, mar o aire, sino también en los laboratorios, las fábricas o las salas secretas, en el comercio internacional y en el corazón y la mente de hombres y mujeres. Auténtica simulación bélica en tiempo real: deja que los más grandes comandantes de la II Guerra Mundial combatan en tu guerra con las herramientas de la época; tanques, aviones, barcos, armas de fuego y las recién descubiertas armas de destrucción masiva. Toma las riendas de cualquier nación: elige entre los grandes poderes que ansían hacerse con la victoria o las pequeñas naciones que tratan de capear el temporal. Lleva el mundo a tu campo de batalla: experimenta todo el período de la II Guerra Mundial en un mapa topográfico que incluye estaciones, clima y terrenos. La nieve, el barro, las tormentas... Estos elementos pueden ser tu mayor aliado o tu más terrible enemigo. Negocia o impón tu voluntad: experimenta los avanzados sistemas políticos y diplomáticos, forma facciones, comercia con tus recursos y nombra ministros en tu grupo. Intensas batallas en línea: combate en un multijugador competitivo y cooperativo para hasta 32 jugadores. Con multijugador multiplataforma. Da una ventaja única a tus naciones: experimenta con el flexible sistema tecnológico, donde todas las grandes potencias tienen una identidad única. Desarrolla históricos tanques y aviones con gran nivel de detalle a través de la investigación y la experiencia militar. También podrás acceder a: Icono del foro: un icono que se puede utilizar en el foro de Paradox. Fondos de pantalla: fondos de pantalla con imágenes del juego.
COMPRAR AHORA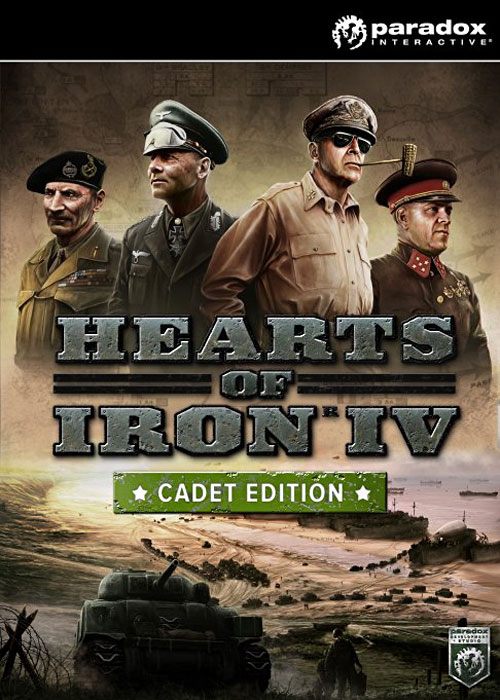 Plataforma:
Región:
etiquetas: SLG
También te puede interesar
Descripción del Producto
Key features
Total strategic war: War is not only won on land, sea and in the air. It's also achieved in the hearts and minds of men and women.
Authentic real-time war simulation: Let the greatest commanders of WW2 fight your war with the tools of the time; tanks, planes, ships, guns and newly discovered weapons of mass destruction.
Assume control of any nation: Choose from the greatest powers striving for victory, or the small nations trying to weather the storm.
Turn the world into your battlefield: Experience the full WWII timespan in a topographical map complete with seasons, weather and terrain. Snow, mud, storms can be both your strong ally and a ruthless enemy.
Negotiate or force your will: Experience the advanced politics and diplomacy systems, form factions, engage in trade for resources and appoint ministers to your party.
Intense Online Combat: Battle in both competitive and cooperative multiplayer for up to 32 players. Featuring cross-platform multiplayer.
Give your nation a unique edge: Experience the flexible technology system, where all major powers get their own unique identity. Develop detailed historic tanks and planes through research and army experience.